We would like to acknowledge that the land on which we provide care is the traditional territory of the Syilx Okanagan Nation.
The UBC Emergency Medicine Interior Site is a five-year training program satisfying the Royal College requirements for Emergency Medicine. It is based in Kelowna, B.C. with approximately 2-3 months per year in Vancouver.
Program highlights
High-fidelity simulation 2x per month, including "in situ" scenarios done in the trauma bay with multidisciplinary teams
Dedicated Point-of-Care Ultrasound block in first year
Local radiology rounds and journal club
New trauma bays with CMAC video laryngoscopy projected onto plasma screen
Annual resident/staff retreat at Big White Ski Resort
New 30,000 square foot Emergency Department built in 2012
Opportunity to teach medical students through the UBC Southern Medical Program
For more information, please refer to our program description on the CaRMS website.
Kelowna General Hospital
KGH is a 445 bed tertiary care and level 2 trauma centre for the interior of British Columbia. Our annual emergency department patient volume is ~ 82,000. We see a high volume of high acuity patients as KGH is the stroke, interventional cardiology, cardiothoracic and vascular surgery, and trauma referral centre for the interior.
Welcome to Kelowna, BC!
Kelowna is a dynamic, lake-front city that offers unsurpassed opportunity for young medical professionals. With a metro population of 200,000, Kelowna offers the perks of a big city but the laid back lifestyle of the Okanagan. Our backyard offers a four-season playground with long, hot summers, mild winters, and more than 2,000 hours of sunshine per year.
Education
Kelowna is home to UBC Okanagan, which is a thriving campus of nearly 11000 students including the medical and graduate schools. Okanagan College and BCIT add to the post-secondary landscape. There are an abundance of elementary schools and secondary schools, both private and public, many of which rank in the top 10% in the province.
Economy
Kelowna continues to be one of the fastest growing cities in BC with technology, manufacturing, health care, tourism and post-secondary education sectors in particular attracting new business and residents to the area. The city's vibrant retail and commercial base accesses a trading area of at least 550,000 consumers within a two-hour drive or less, making it the largest centre for urban development, business, commercial, retail, and health care services between the Lower Mainland and Calgary (investkelowna.com). The Kelowna International Airport is among the busiest 10 airports in Canada, serving 1.6 million passengers annually. From an employment standpoint Kelowna has much to offer young families. The Okanagan Young Professional collective offers a wealth of information – oypcollective.com.
Recreation
Kelowna has nearly 300 km of on-street bicycle lanes and 40 kms of separated, paved, multi-use pathways. Off the road there are many mountains in the surrounding area offering world-class mountain biking, hiking, snowshoeing, and bouldering just minutes from your doorstep. Check out Active by Nature by The City of Kelowna highlighting just a few of the outdoor attractions our region offers. Check out this link for things to do in Kelowna.
Skiing
Big White Ski Resort is 56 km away from the city and is the third largest resort in BC, receiving an average annual snowfall of 750 cm. Revelstoke, Sun Peaks and Silver Star are all within a short drive and backcountry skiing is readily accessible.
Food & Drink

The Okanagan Valley is home to more than 130 licensed wineries and more than 30 are located in the Kelowna area alone. Kelowna also has a rich and thriving culinary scene. The downtown core has seen a surge of new restaurants and microbreweries.
Arts & Culture
The city is home to Ballet Kelowna, Opera Kelowna, and the Okanagan Symphony Orchestra. Kelowna also has a strong theatre scene. The Kelowna Art Gallery offers a unique blend of local and world-renowned works.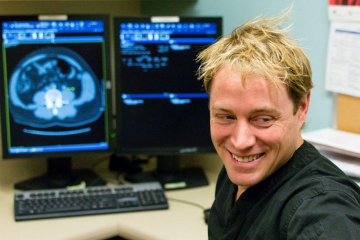 "As a recent grad of the UBC emergency medicine program, I cannot speak highly enough about working at KGH and about the program in general. Some of the highlights are an amazing group of colleagues and residents that work hard and play hard in the beautiful Okanagan valley, a fantastic group of nurses and allied health care professionals who make our job so much more enjoyable, and limitless opportunities to grow and learn in whatever area of interest within EM that you may have." – Dr. Jared Baylis
---
"What does it mean to work at Kelowna General Hospital?  It is friendly consultants.  It is everyone knowing your name.  It is working and playing in the glorious Okanagan with your hospital family!" – Dr. Geoff Sanz
---
"Getting to be an emerg doc at KGH is my dream job – I work in a one stop shop with all the amenities, at a hospital where everyone knows your name and works together for patient care, surrounded by an amazing and beautiful outdoor, year round playground. Becoming a resident here means you get a very personalized educational experience, with lots of opportunity to enjoy life outside of work with a great group of staff and co-residents. It has been an honour to be a part of this new residency program – to watch it grow and flourish. Our residents constantly challenge me to become a better physician and teacher." – Dr. Jen Williams
---
"Working with this energetic and inspiring group of residents is a true privilege. I learn something new every day. We are a busy ED, and our work is both challenging and interesting. Thanks to our amazing team of nurses, physicians, residents, medical students and all of our ED staff, working here is also a lot of fun!" – Dr. Diana Fort
Electives
Kelowna General Hospital (KGH) offers a four-week elective for medical students in their final year that provide the opportunity to gain exposure and competence in managing a wide variety of clinical presentations in a busy emergency department. Students will work one-on-one with enthusiastic physicians who establish an exceptional learning environment and provide an appropriate level of independence. Students will have the opportunity to participate in emergency procedures such as suturing, orthopedic reductions, casting, intubation, central lines, chest tube placement and trauma management. Additional learning opportunities may include weekly academic days with the EM residents, monthly EM journal clubs, weekly grand rounds, and simulation sessions.
For more information or to inquire about arranging an elective, please contact Heather Wray at smpelectives@interiorhealth.ca. Out of province students are also welcome! For more information about the UBC visiting student elective program, please click here.
UBC Students
Applications for electives are submitted online via the One45 system. There are deadline application dates for each elective block, which must be approved by the elective organizer for successful placement. Contact us to hear more about the program/set up a shadow shift.
Connect with our Interior Residents!
  @kelownaemresidents
  @KelownaEM