We would like to acknowledge that the land on which we provide care is the traditional territory of the xwməθkwəy̓əm (Musqueam), Skwxwú7mesh (Squamish), and Səl̓ílwətaʔ/Selilwitulh (Tsleil- Waututh).
As the founding site of the UBC Emergency Medicine program, Vancouver has had a long-standing reputation for graduating strong, competent and confident residents who go on to excel in Emergency Medicine across Canada.
Program Highlights
As Vancouver General Hospital (VGH) is the quaternary referral centre for the province, you will work with physicians from Emergency Medicine and other specialties who are nationwide experts in their field.
Dedicated teaching during both Emergency Medicine and off-service rotations from experienced senior residents and supportive staff physicians.
Ability to care for and be exposed to complex patients from across the province including the province's transplant and burns cases.
High fidelity in situ simulations every Tuesday in the trauma bay with nurses and allied health care staff.
Newly introduced and highly rated coaching program where each resident is paired with a staff physician for five years. This allows for residents to have a mentor who works with them to enhance their academic growth and supports them through the ups and downs of residency.
Annual resident retreat, Dr. Brian Chung's famous barbeques and regular staff-resident get togethers.
Vancouver General Hospital (VGH)
VGH is a 900 bed Level 1 Trauma Centre and the province's Burns and Transplant centre. With a busy Emergency Department that sees more than 100,000 patients per year, the acuity you will see here is unparalleled.
Close to one of the city's busiest streets, Broadway, with its innumerable coffee shops and food choices, VGH is a wonderful place to call home.
You will also rotate through BC Children's Hospital, which is the provincial referral centre for pediatrics.
Sample Schedule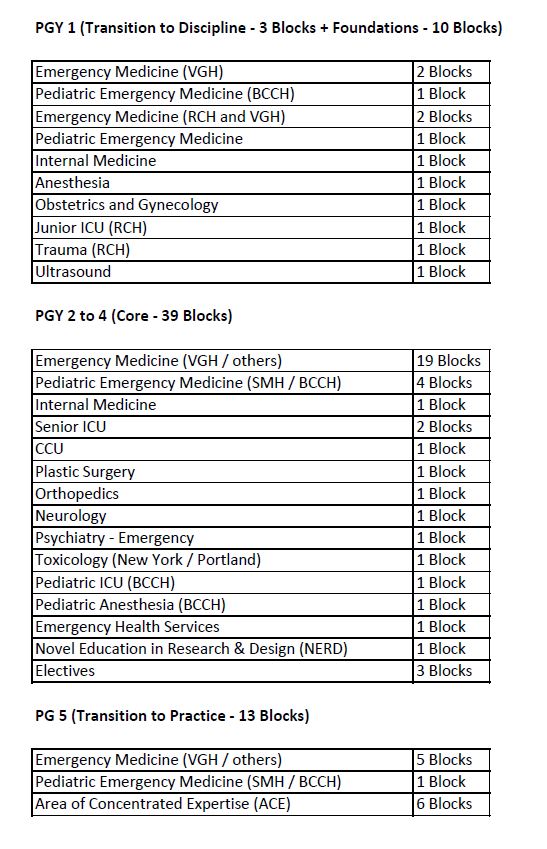 Welcome to Vancouver, BC!
Vancouver is a world-class city with something to offer everyone – you can sample any global cuisine your heart desires, purchase artisanal goods from Granville Island, conquer the famous Grouse Grind hike and relax at one of the trendy microbreweries at Olympic Village all in one day!
Economy
Vancouver's geography is an important force shaping the city's economy. Owing to its proximity to Asia, as well as its excellent deep-water harbour and transportation infrastructure, Vancouver is Canada's primary hub for trade with Asia. Major corporations such as Microsoft, IBM and Nintendo maintain offices in Vancouver.
Tourism and conventions contribute substantially to the city's economy as visitors come to enjoy the city's beauty and amenities or to use it as a transfer point to nearby destinations such as the resort at Whistler. Along with tourists, filmmakers have been attracted by Vancouver and British Columbia's natural beauty. Inspired by the adjacent mountains, forests and ocean, Vancouver has a strong active outdoors culture which has produced a small but significant industry producing athletic performance apparel.
Recreation
The Vancouver area offers many opportunities for outdoor recreation, including skiing and year-round boating, golfing and diving. Within the city are more than 200 parks, of which the largest and most important, Stanley Park, has many recreational facilities including an 8.85 km portion of the seawall, a favourite location for walkers and joggers.
Being the third largest city in Canada, you will find spaces to delve into any hobby or passion of your liking whether it's team sports, pottery, shopping, kickboxing or painting night.
Food & Drink
Vancouverites know their city's culinary scene. They know where to find the best tower of fresh seafood, the finest house-made charcuterie, the most delicious taco truck, and the best list of B.C. wines. Vancouverites are entirely capable of having a stand-up argument about which sushi restaurant is the best, even if both restaurants are exquisite. The city's restaurants, wine bars, tasting rooms, cocktail dens, food trucks, farmer's markets and bakeries are absolutely deserving of this passion. Contact our residents and they will hook you up with the best brewery tour, sushi tasting, or Happy Hour!
Arts & Culture
Vancouver is alive with creativity. We have amazing music, dance, new media, theatre, festivals, film, design, exhibitions, galleries, museums and special events. It's home to the Vancouver International Film Festival, more than 50 professional theatre companies, and the Rogers Arena and BC Place where large-scale concerts always offer a great show!
Transport
For all the bikers out there – Vancouver is one of the most bike-friendly cities in Canada. And for those who don't bike, it's extremely easy to explore the city with its interconnected bus routes, Skytrain and carshare programs.
Weather
Warmed by Pacific Ocean currents and protected by a range of mountains, Vancouver's weather is mild year-round. From low 20's Celsius in summer to a mild 0º to 5º Celsius in winter, the climate is always hospitable. Our winters are wet, but it rarely snows, except on our local ski hills. What a dream!
Diversity
Vancouver believes that its diversity, be it gender identity, abilities, race, colour, religion, sexual orientation, culture or ethnicity, helps to create a rich and vibrant community in which all individuals live in mutual respect, dignity and harmony.
This is reflected in the values of our RCPSC-EM program and our clinical work at Vancouver General Hospital through the diverse population that we serve. This diversity offers a cultural richness and a sense of inclusivity unique to Vancouver.
The UBC residency program is a unique program with absolutely wonderful residents and faculty.  I love coming to work and knowing that I'll be surrounded by supportive, energetic, and brilliant people.  The one thing that makes my day is when I show up for work and there is one of our residents working with me – I know that it's going to be a good shift no matter how difficult the patients are." – Dr. Tina Yokota 
---
"As an attending Emergency Physician at Vancouver General Hospital, one of the things I love most about my job is working with the outstanding group of resident physicians we have at UBC.They are a diverse, accomplished group who continually push me to learn and improve my own clinical practice.As a resident I benefited tremendously from the collegial, collaborative, and patient-care focused learning environment at VGH, and as an attending my goal is to continue to foster this learning environment. – Dr. Emerson Genuis 
---
"I graduated from the UBC emergency medicine program with such appreciation not only for an excellent education but for the family feel and supportive environment. The program provides both training and mentorship and I knew as staff I would want to be involved in such a legacy. Residency is hard, but I think having staff invested not only in your education but also your wellbeing makes a difference." – Dr. Kaitlin Lee 
---
"I love working at VGH because we have a particularly collegial group and in fact I think the best relationship with our nursing colleagues and other allied health staff that I have ever seen. I particularly love working with our residents; they are so smart, hard working and fun.  It's amazing and incredibly rewarding watching them grow each year and I feel really lucky to be a part of it." – Dr. Kelsey Innes 
Electives
Vancouver General Hospital offers a 4 week elective for medical students that provide the opportunity to gain exposure and competence in managing a wide variety of clinical presentations in a busy emergency department. Students will work one-on-one with enthusiastic physicians who establish an exceptional learning environment and provide an appropriate level of independence. Students will have the opportunity to participate in emergency procedures such as suturing, orthopedic reductions, casting, intubation, central lines, chest tube placement and trauma management. Additional learning opportunities may include weekly academic days with the residents, monthly journal clubs, weekly grand rounds, and simulation sessions.
If you were unable to get an elective at VGH and are interested in our program, we are happy for you to contact us to hear more about the program/set up a shadow shift.
For junior medical students, you may contact us directly to arrange a few shadow shifts.
UBC Students
Applications for electives are submitted online via the One45 system. There are deadline application dates for each elective block, which must be approved by the elective organizer for successful placement.
Visiting Students
Applications for electives are submitted online via the AFMC Portal.
The first come, first serve principle applies for UBC electives. Applicants are encouraged to apply and pay as close to the 7 month mark as possible. Note that while you may complete the application process early, the placement process may start several months later, as this is dependent on the UBC student schedule.
Associate Program Director – Vancouver Site
Dr. Tina Yokota
tina.yokota@ubc.ca 
---
For general inquiries, please contact our program admin:
Casandra Avanzado, Vancouver Program Coordinator
em.vancouver@ubc.ca
---
For undergraduate or medical student inquiries, please contact:
Dr. Daniel Ting
k.daniel.ting@gmail.com

---
Interested in speaking to one of our Vancouver residents? Please contact: